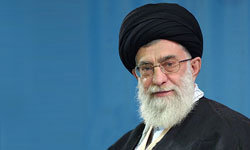 TEHRAN (FNA)- Supreme Leader of the Islamic Revolution Ayatollah Seyed Ali Khamenei lauded the achievements made by Iranian nation during the last 30 years despite the long-standing sanctions on the country following the Islamic Revolution.
"In the past 30 years world powers have tried everything to hinder Iran's progress but despite the many years of sanctions imposed on our nation, we have made achievements such as the Omid satellite and we have acquired the technology to enrich uranium, a technology only a few countries possess," Ayatollah Khamenei said, addressing Iranian Air Force commanders and personnel here on Saturday on the occasion of the 30th anniversary of the Islamic Revolution.
Iran successfully sent its first domestically made satellite into orbit. The satellite called Omid (Hope) was launched early on Tuesday.
The outstanding headway made by the Iranian nation during the past 30 years following the Islamic Revolution has been a tribute to their faith in God and a fruit of an untiring scientific drive coupled with national confidence, the Leader reiterated.
Ayatollah Khamenei then noted that victory of the Islamic Revolution in Iran brought changes in three major arenas, including the Iranian society, Islamic Ummah (community) and global macro-equations.
"This Revolution has transformed the nation of Iran into a nation of willpower, strength and dignity, a nation capable of influencing other societies," added the Leader.
Ayatollah Khamenei said while the enemies of the Islamic Republic testify to Iran's critical role in important regional issues, certain powers still refuse to acknowledge a revolutionary Iran.
"When a nation comes to realize its great potentials and makes decisions accordingly, no power can stand in its way and no one can dominate it," the Leader went on saying.
Ayatollah Khamenei cited the increasing popularity of the message of the Islamic Revolution as another great achievement for Iran.
"The popularity of the message of the Revolution can be clearly witnessed in what happened in Gaza and before that in the 33-day war in Lebanon. The well-equipped Israeli army backed by the US was incapable of defeating a handful of besieged youth who had nothing but their faith in God," the Iranian Supreme Leader added.
Ayatollah Khamenei then touched on the upcoming February 10 nationwide rallies in commemoration of the victory of the Islamic Revolution, saying the massive annual turnout of people even in extreme weathers stood out as an iconic proof to the perseverance of people on their revolutionary aspirations.
The Leader expressed hope that by God's assistance the people will take to streets in massive numbers on February 10 and produce a turn out which brings a loss to enemy.