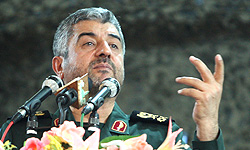 TEHRAN (FNA)- Basij (volunteer) forces have been assigned by the Supreme Leader to fight the threat of soft regime change plans against the Islamic Republic, Islamic Revolution Guards Corps (IRGC) Commander Mohammad Ali Jafari said here on Monday.
"The Supreme Leader (Ayatollah Seyed Ali Khamenei) has decided to assign this grave responsibility to the IRGC and Basij," Jafari said in a gathering of 5,000 commanders of Tehran's Basij units, adding, "Basij and the IRGC should stand against those who want to hurt the tight relations between the Leader and (Iranian) nation."
Stating that Iran should prepare itself to fight against the enemies' threats of soft regime change, he reiterated, "The nature of the threats to the Islamic Republic has changed in comparison with the past and Basij and IRGC should prepare themselves more than before."
Elsewhere in his speech, Jafari referred to the Islamic Revolution's achievements and said, "…its greatest achievement in the political arena is the Islamic Revolution's complete independence and its influence in the world nations."
"As the Supreme Leader has said the Islamic Republic has been able to make many changes and developments in the political geography of the world", he added.
Noting Iran's self-sufficiency in economic, political, defensive and security spheres, Jafari stressed, "Today Iran's security is so high that the US military forces, deployed around Iran to influence the Islamic Republic's behavior and stop its mottoes with the help of their extreme power, are not able and do not dare to do anything against Iran…."
The IRGC commander also described Palestinian and Lebanese people's victory against Israel a result of Iran's Islamic Revolution.