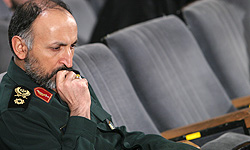 TEHRAN (FNA)- A senior Iranian commander here on Monday warned enemies of the Islamic Republic against attacking the country.
"Our enemies must know that clashing with the Islamic Republic means getting stuck in a huge quagmire which will kill them," Lieutenant Commander of the Islamic Revolution Guards Corps (IRGC) General Mohammad Hejazi said.
The General further pointed out that the high goals of the Islamic Revolution require patience, resistance and hard work by all.
Israel and its close ally the United States accuse Iran of seeking a nuclear weapon, while they have never presented any corroborative document to substantiate their allegations. Both Washington and Tel Aviv possess advanced weapons of mass destruction, including nuclear warheads.
Iran vehemently denies the charges, insisting that its nuclear program is for peaceful purposes only. Tehran stresses that the country has always pursued a civilian path to provide power to the growing number of Iranian population, whose fossil fuel would eventually run dry.
Speculation that Israel could bomb Iran mounted following a big Israeli air drill in June 2008. In the first week of June, 100 Israeli F-16 and F-15 fighters reportedly took part in an exercise over the eastern Mediterranean and Greece, which was interpreted as a dress rehearsal for a possible attack on Iran's nuclear installations.
Iran has, in return, warned that it would target Israel and its worldwide interests in case it comes under attack by the Tel Aviv.
The United States has also always stressed that military action is a main option for the White House to deter Iran's progress in the field of nuclear technology.
Iran has warned it could close the strategic Strait of Hormoz if it became the target of a military attack over its nuclear program.
Strait of Hormoz, the entrance to the strategic Persian Gulf waterway, is a major oil shipping route.
Meantime, a recent study by the Institute for Science and International Security (ISIS), a prestigious American think tank, has found that a military strike on Iran's nuclear facilities "is unlikely" to delay the country's program.
The ISIS study also cautioned that an attack against Iran would backfire by compelling the country to acquire nuclear weaponry.
Earlier in December, A former Israeli national security advisor warned Tel Aviv that it lacks the military power to launch a successful attack against Iran.
"To our regret, there is no Israeli military capability that would enable us to reach a situation whereby Iran's nuclear capabilities are destroyed without the possibility of recovery," Giora Eiland said.