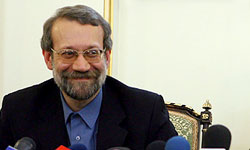 TEHRAN (FNA)- Iranian Parliament Speaker Ali Larijani, in an interview with a German newspaper, said that he believes the dispute over Iranian nuclear issue is not unsolvable.
"The dispute over the nuclear issue is not an unsolvable problem if we stop being entrenched in our positions," Larijani said in an interview on Sunday with the German Suddeutsche Zeitung newspaper.
He also reiterated that the Iranian government was "ready to talk without pre-conditions" with the United States.
"If the Americans are really willing to resolve the problems, then they must present their concept," the former Iranian nuclear negotiator added.
In an apparent shift from the Bush administration's policy on Iran, US President Barack Obama has vowed to engage diplomatically with Iran, saying he will back "tough and direct diplomacy" as a means to end the controversy surrounding Tehran's nuclear program.
Larijani made the remark a day after Vice President Joe Biden outlined the new US administration's foreign policy in Munich on Saturday, saying that Washington would move toward direct talks with Iran but at the same time spoke of a continued tough stance.
The Iranian speaker pointed to "inadequate" declarations in US official's interviews and speeches, saying that "Iran so far has not received any concrete offer from President Barack Obama's administration".
"We have heard in media that the Americans would also be ready to talk with us without pre-conditions. But the old clichés about carrots and sticks continue nevertheless," he said.
Washington and its Western allies accuse Iran of trying to develop nuclear weapons under the cover of a civilian nuclear program, while they have never presented any corroborative evidence to substantiate their allegations. Iran denies the charges and insists that its nuclear program is for peaceful purposes only.
Tehran stresses that the country has always pursued a civilian path to provide power to the growing number of Iranian population, whose fossil fuel would eventually run dry.
Despite the rules enshrined in the Non-Proliferation Treaty (NPT) entitling every member state, including Iran, to the right of uranium enrichment, Tehran is now under three rounds of UN Security Council sanctions for turning down West's illegitimate calls to give up its right of uranium enrichment.
Tehran has dismissed West's demands as politically tainted and illogical, stressing that sanctions and pressures merely consolidate Iranians' national resolve to continue the path.
Political observers believe that the United States has remained at loggerheads with Iran mainly over the independent and home-grown nature of Tehran's nuclear technology, which gives the Islamic Republic the potential to turn into a world power and a role model for other third-world countries. Washington has laid much pressure on Iran to make it give up the most sensitive and advanced part of the technology, which is uranium enrichment, a process used for producing nuclear fuel for power plants.
The UN nuclear watchdog, however, has confirmed in its November and latest report that Iran has only enriched uranium-235 to a level 'less than 5 percent', a rate consistent with the development of a nuclear power plant.