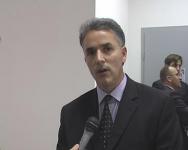 The case of Rufi Osmani, a popular ethnic Albanian former local leader who has been barred from running from mayor in the western town of Gostivar, has injected controversy into Macedonia's local election next month.
The local election commission found him unfit to run as an independent candidate on the March 22 election, saying a jail sentence in the late 1990s meant he was legally not eligible.
In 1997 Osmani and the then mayor of the nearby town of Debar, Alajdin Demiri, ignored an order of Macedonia's constitutional court to remove the Albanian flag that they had put on the municipality buildings. Police intervened and the ethnic Albanians that had gathered to protect the flags were beaten. Osmani got a 12 year jail sentence but served only 20 months before being amnestied in 1999.
"The current authorities do not want competition. There is absolutely no legal reason for rejecting my candidacy", Osmani told local media, saying he suspects that current Gostivar mayor, Nevzat Bejta, who is backed by the ruling ethnic Albanian Democratic Union for Integration, DUI, is behind this.
Local experts argue that the penal law provides for the legal rehabilitation of former convicts. Five years after they have finished serving their sentence, their names should be automatically deleted from the criminal register and given back normal citizens' rights.
"Osmani's electoral rights are being violated", Skopje Law Faculty professor Renata Deskoska said Friday for the local Utrinski Vesnik daily.
The decision of the local election commission is even more controversial because the jail sentences have not been used in the past to prevent some current and former legislators of entering politics. Tahir Hana, Amdi Bajran and Xhevat Ademi all spent time in prison before becoming legislators, as had Garib Kaba and Fadil Sulejmani from the previous assembly.
After leaving prison Osmani denounced politics and continued his career as university professor, but his standing in the Albanian community remained high.
The unrest was a prelude to the 2001 ethnic Albanians rebellion against Macedonian government forces, a conflict that ended the same year with the signing of the Ohrid peace accord giving the 25-percent Albanian minority greater rights.
Along other things, the law now allows putting the flag of one ethnic community in front of public buildings if that community makes up the majority of the population there.