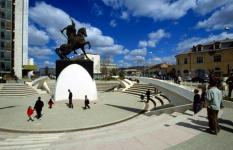 Kosovo and Austria have signed a memorandum of understanding pledging to foster closer economic cooperation.
The main focus of the deal will be the intensification of trade, cooperation in private sector economy, promotion of direct investments, export promotion and brain and technological transfers.
Signed by Kosovo's Minister of Trade and Industry, Lutfi Zharku and his Austrian counterpart, Reinhold Mitterlehner, the two states agreed on technical assistance in creating a Fund for Small and Medium Enterprises in Kosovo. The later is also meant to develop the legal and institutional infrastructure. 
The agreement is to be supervised by the "Committee for Economic Cooperation", a mechanism created by the two signatories of the agreement.
Kosovo remains the poorest country in Europe with unemployment of around 45 per cent and some 20 percent of the population living on under $1 per day.