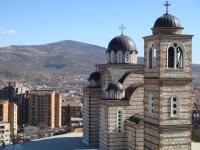 While Kosovo's Albanians celebrated the one-year anniversary of their declaration of independence on Tuesday, Serb and Kosovo Serb politicians gathered defiantly in the northern Kosovo town of Zvecan on Tuesday to proclaim their rejection of the secession and flaunt Belgrade's reach in Serb-controlled parts of Kosovo where Pristina has no authority.
The Assembly of Serbian Municipalities and Towns in Kosovo and Metohija unanimously adopted a declaration that rejects Kosovo's declaration of independence and also opposes the creation of the Kosovo Security Force, Kosovo's fledgling army, saying it is against the constitution of Serbia and UN Security Council resolution 1244. 
"The Assembly of Serbian municipalities in Kosovo and Metohia reject as invalid and without legal validity all acts and undertakings which unilaterally declares Kosovo independence and form institutions of the so-called Kosovo state," said Radovan Nicic, speaker of the Assembly.
The meeting was attended by Serb MPs from conservative and nationalist parties, another sign of defiance towards the Albanian authorities in Pristina and Kosovo's international overseers, which have warned Serbia against consolidating its authority in Kosovo's Serb north for fear of a partition. Serbian Minister for Kosovo Goran Bogdanovic said Serbia was unwavering in its claim over Kosovo.
"This declaration in political sense has very big importance and sends a very clear message from Serbs from Kosovo and Metohija to the international community and Albanians as well, that Serbia and Serbs
in Kosovo and Metohija do not want to renounce its territory on Kosovo and Metohija," he said.
"Only united can we solve and fight the problems of Serbs and other non-Albanians are facing in Kosovo and Metohija."
Marko Jaksic, a hardline Serb leader from Mitrovica, said the reason why they wanted the Serbian parliamentarians to be present on their session "on this unlucky date" was to show that "there can never be another Albanian state in the Balkans."
Kosovo declared independence from Serbia on February 17, 2008 and so far has been recognised by most EU and NATO member countries. Serbia and its traditional ally Russia are opposing the secession and blocking Kosovo's entry into the United Nations. Kosovo Serbs additionaly asked the government in Belgrade to take legal action against any countries that recognized Kosovo as a sovereign state.