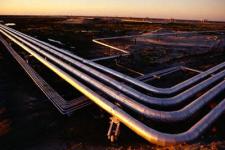 Russia's Gazprom and Serbia's gas company Srbijagas have decided to postpone "for some time" the signing of an agreement on a joint venture for building the South Stream gas pipeline, previously due to start in early March.
Politika daily quoted sources close to Gazprom as saying the reason was that the huge technical documentation needed for the project was still not prepared.
The chairman of Serbia's Gas Association, Vojislav Vuletic, said the delay did not put in question the whole project.
"It's a huge job that includes, besides Serbia, a dozen other countries, and the technical documentation is huge. The deadlines for preparing it have obviously not been realistic," he said, adding the global economic crisis was more likely the reason for the delay as the Russians might be waiting for a better moment and more stable situation to launch a big project.
The South Stream pipeline is meant to transport gas from the Black Sea through Bulgaria, Greece, Serbia, Hungary, Slovenia to Italy and Austria. It will be built only if the feasibility studies in all these countries show that the project will pay off, but if not, the pipeline will not be built.
So far, Russians have signed an agreement on joint venture only with Italy as for them, the aim is to get to the big consumers, and to make a net of the pipelines throughout Europe. Serbia's energy deal with Russia, signed last December, saw Belgrade sell the controlling stake in its oil monopoly NIS for 400 million euro, a price seen as half its market value, as a part of a package that included the building of the South Stream pipeline.