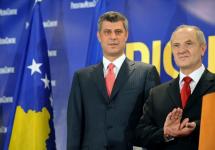 United States Secretary of State Hilary Clinton has reconfirmed Washington's support for Kosovo during a visit of Kosovo's senior leaders to the US..
Kosovo declared independence from Serbia in February 17, 2008 and has since been recognized by 55 states, including the majority of EU members.
"We support the new state of Kosovo which has attained a lot of progress throughout the first year and has turned into a factor of stability", Clinton said.
Kosovo's President Fatmir Sejdiu repeated that Kosovo is grateful for the continuous support of the US, and vowing that Kosovo is working to build a multi-ethnic state. "Without the support of the US, Kosovo wouldn't have attained all this", said Sejdiu.
Prime Minister Hashim Thaci thanked the US and reconfirmed his government's commitment to building a society of equal opportunities. "We are very proud of our work throughout the first year of independence".