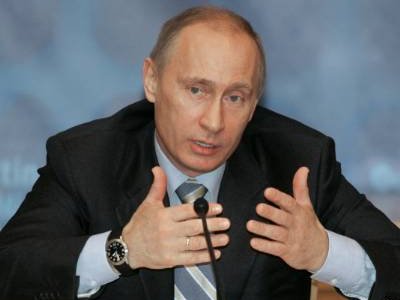 Russia's ruling party cemented its grip on elected posts with big victories in local elections despite an economic crisis, but the opposition complained of widespread cheating.
Political analysts said the level of complaints about the campaign and violations of electoral rules made it hard to draw conclusions from the results of Sunday's elections for town and city councils, mayors and nine regional parliaments.
The opposition Communists had been best placed to profit from rising discontent but the results gave them a distant second place in most regions.
Preliminary results on Monday showed the United Russia party, led by Prime Minister Vladimir Putin, leading by big margins in all nine elections to regional parliaments. Turnout was 55.7 percent, up slightly on the last comparable vote.
Support for United Russia ranged from 42.5 percent in the Arctic Nenets district to 79.5 percent in the wealthy and mainly Muslim republic of Tatarstan. Figures on mayoral and district council votes were not immediately available.
The election was the first since the economic crisis hit Russia late last year. Two million people have lost their jobs, the rouble has been devalued and many salaries cut, and the Kremlin is concerned the economic hardship will fuel protests.
"They were not large-scale elections, so the potential for violations was much greater," said independent commentator Yulia Latynina. "No one was really paying attention."
"I honestly don't know what the people think right now, but I am certain the results of these elections do not reflect what they think."
OPPOSITION CRIES FOUL
Communist Party leaders said the official figures did not coincide with their own tallies of voting.
Sergei Obukhov, a member of the party's central committee, said there was "great doubt" about their elections' legitimacy and violations were "far higher" than in previous votes.
"When in (the western region of) Bryansk, for example, workers were forced to work on a Sunday and vote on site at a polling station controlled by the authorities, you can't call that an election," he said.
Sergei Ivanov, a parliamentarian with the right-wing LDPR party, said there was "bare-faced arm-twisting" of voters.
Central Election Commission chief Vladimir Churov, an old university contemporary of Putin's, said he had not received reports of any violations.
United Russia said the opposition had violated electoral rules with bribes to voters which included adulterated cheap wine and chocolate which had passed its sell-by date.
No international observers watched the vote. Golos, Russia's main non-governmental election monitoring group, said violations seemed on a similar scale to the 2008 presidential election.
That vote, won by President Dmitry Medvedev, prompted complaints from Western observers of unfairness.
Russian newspapers reacted cynically to the local elections, saying the winner had been clear all along.
"There is no party able to become a serious competitor for United Russia, even during the crisis," the daily Nezavisimaya Gazeta wrote. The party had strong administrative resources and funds, and benefited from Putin's positive image, it said.
United Russia was created during Putin's 2000-2008 presidential terms as the Kremlin's main political machine. It already dominates national and regional parliaments, governors and mayors and receives lavish coverage in state media.
About 20 million Russians out of a population of 142 million were eligible to vote in Sunday's elections, which involved some 3,600 separate races.
The two biggest cities, Moscow and St Petersburg, did not vote. Putin nor Medvedev took no active part in campaigning.