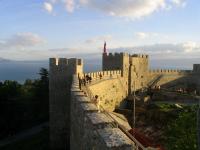 Macedonian and Greek authorities have condemned a graffiti attack on Greek tourist buses visiting Macedonia's lake town of Ohrid at the weekend.
The three buses carrying Greek tourists were parked in downtown Ohrid when they were spray-painted with slogans such as "United Macedonia", "Alexander the Great" and some obscenities. The tourists who said they were very upset about the incident were escorted back to Greece under police protection.
The city of Ohrid, Macedonia's most visited tourist destination, condemned the vandalism on Monday and apologized.
"We do not make distinctions between our guests, all are equally welcome," Ohrid mayor Aleksandar Petreski told media, also urging police to fins and punish the perpetrators. "I think that the incident is done on purpose and that the people of Ohrid do not stand behind it."
Athens and Skopje are locked in an 18-year dispute over Macedonia's name. Tensions reached a new high last April when Athens blocked Skopje's entry into NATO arguing that the name Macedonia implies territorial claims over its own northern province called the same. Since then small-scale incidents like this have been reported on both sides of the border.
"Athens strongly condemns the organized attack by unidentified perpetrators against Greek visitors and their property in Ohrid", Greek Foreign Ministry spokesman George Koumoutsakos stated, adding that such actions hurt relations between the two countries.