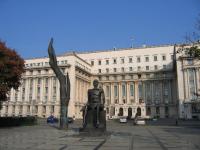 A non-commissioned officer within the Romanian Defense Ministry (MApN) and a Bulgarian citizen were arrested on Tuesday on charges of espionage and treason for allegedly passing on classified information to Ukraine.
Romanian prosecutors say officer Floricel Achim passed classified military information, between 2002 and 2007, to Bulgarian citizen Marinov Zikolov in exchange for money. The classified information included maps, military technical information and details on radars.
On his part, Zikolov gave the information to a representative of Ukraine in Bucharest, prosecutors added. The Ukrainian embassy refused to comment.
Local media reported that Achim admitted the charges, allegedly saying he did it because he had "a precarious financial situation." According to Romanian law, the maximum jail term for espionage is 25 years, while for high treason it is life imprisonment.