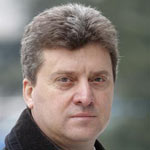 Skopje, – Support in ensuring economic prosperity and political stability in Macedonia, responsible foreign policy, support of EU integration processes and the strategic partnership with the United States, collaboration with institutions at central and local level, commitment to the multi-ethnic concept, devotion to and protection of the tradition, culture and identity and prevention of the trend of brain drain.
These are the chief pillars incorporated in the electoral program of presidential hopeful nominated by the For Better Macedonia coalition, Gjorge Ivanov who promoted it Wednesday at an opening ceremony of his Skopje-based campaign headquarters.
– These premises are open for all the people who would like to meet the presidential candidate. Citizens regardless of being Macedonians, Albanians, Turkish, Roma, Vlachs, Bosniaks, Serbs and all others that are not in the Constitution but live in Macedonia will be able to come here and say what they expect from the future president of Macedonia, said Ivanov.
He said he anticipates the headquarters to be a place where unity of all those who live in Macedonia will be promoted and where good ideas from good people will be heard.
– The positive spirit of the campaign will be launched from here. We are sick and tired from pessimism and segregation. From here we will promote the idea of unity and the idea that the image of Macedonia can be changed if we are united, Ivanov added.
The presidential candidate expressed his hopes that the upcoming elections will be fair and democratic, pledging that he will personally lead a positive campaign and advocate unity.