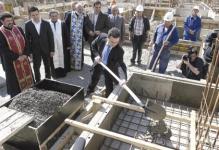 The opposition Monday blamed Macedonia's Prime Minister Nikola Gruevski for misusing his office after he announced the start of several infrastructure projects amid the current presidential and local election campaign.
The opposition Social Democrats accused the conservative VMRO DPMNE party prime minister for "misuse of budget money for party promotion" after he recently appeared at the opening of several construction sites across the country.
The government funded waterworks in one Skopje district, a local road from Skopje to the isolated Makedonski Brod region and several sport halls openings were recently part of the prime minister's agenda.
Gruevski announced that "in the coming weeks we will start building a new hall for the philharmonics, a new building for the constitutional court, and an upgrade of the parliament".
The opposition says that he is using these building projects to boost the popularity of his party candidates in the March 22 local and presidential poll.
The government insists that this and other announced projects are part of their recently revealed plan for 8 million euros in capital investments in the next seven years. The ambitious plan was presented at the start of the campaign at the beginning of the month.
On March 22 Macedonia chooses a new head of state as well as 83 municipality mayors.