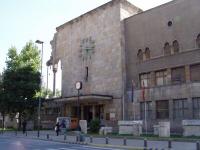 The recent idea by one of the front runners for the position of Skopje's Mayor to restart the clock adorning the old city train station, which has stood still since the morning of July 27 1963 when a devastating earthquake struck the Macedonian capital, has stirred public controversy and debate.
If elected mayor in the March 22 municipal and presidential elections, Koce Trajanovski from the ruling conservative VMRO DPMNE party said in his election program that he would activate the clock and mark every hour not with a chime but with a folk song.
"Trajanovski wants to show that time in Skopje keeps moving, that it didn't stop," wrote the local daily Dnevnik in its comment piece on Friday. "But, given what we have seen (in the election campaign and in the work of the previous city mayors) so far, Skopje seems to have stopped, the only thing that is moving is stupidity."
The daily suggest Trajanovski should buy himself a MP4 player or an iPod if he wants to listen to folk music every hour, rather than subject Skopje's citizens to his bad taste. The clock is a testimony to the tragic event of 1963 in which hundreds of people lost their lives, and should not be used for the political adventures of a partisan with less than sophisticated tastes, Dnevnik's editorial commentary said.
The modernist station was one of the few buildings left standing after a massive earthquake crushed the city. The clock reads 5:17 to mark the time of the tremor. The train station, now an art museum, is a reminder of that moment in history.
The controversy is the latest over plans put forward by the ruling party for changes to the city's appearance in which critics accuse the government of promoting architectural tastelessness. Last Month the mayor of Skopje's central municipality elected from the same party suggested a giant singing statue of Alexander the Great be erected in the city square.