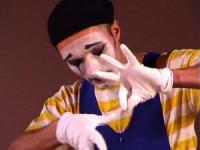 The second edition of the Macedonian pantomime and physical theatre festival Panphys opens today, bringing important artists from the region and the world to the capital Skopje.
The festival, which will take place at the Macedonian National Theatre until March 14, opens tonight with Monologue with a Suitcase – a performance from France by Gerasim Dishliev.
On Tuesday, Adam Darius and Kazimir Kolesnik from Finland will perform Scarecrow's Death, followed by a performance on Wednesday of Pawn Shop by the third-year students from the National Theatre and Film Academy in Sofia. On March 12, the Kanglei Mime Theatre from Imphal, India, will perform.
Macedonia's only participant, actor Kire Gorevski, will present Forward or Backward on March 13.
The festival will be closed by The Rubikon Theatre from Rijeka, Croatia, with InterNetWork. Following that, the award for best performance will be given out.