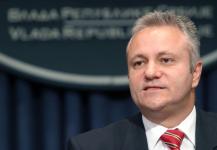 The Serbian minister of economy Mladjan Dinkic told a the press conference Wednesday that the export of arms from Serbia to Libya was halted by the Security Information Agency because of suspicions that the owner of the company that mediated the deal is on the UN's black list.
Dinkic said that the an international arrest warrant has been issued for the owner of the company.
According to the daily Blic, the Serbian intelligence agency blocked the export of arms worth 50 million dollars from the Cacak Sloboda and Kragujevac Zastava Arms factories to Libya.
The arms industry trade unions have condemned the state's refusal to issue export licenses to Sloboda and Zastava Arms for countries that are not sanctioned by international organisations. The Ministry of Defence says that in issuing arms export licenses it is "considering the influence the export contracts have on Serbia's security".
Answering journalists' questions why the arms industry has been waiting for export licenses to certain countries for a long time, Dinkic said that questions on the details should be directed to the Security Information Agency. Since 2005, the Ministry for Economic and Regional Development has been responsible for issuing export licenses with the consent of the defence, foreign and interior ministries.