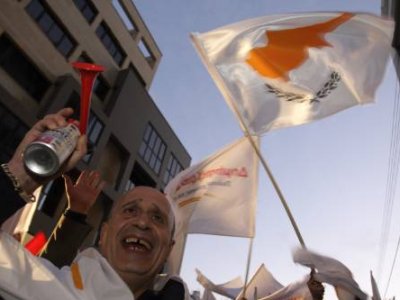 Greek and Turkish Cypriots started peace talks in September 2008, the latest bid to end a conflict.
Business leaders of Greece, Turkey and the two communities on Cyprus on Thursday urged leaders of the divided island to reach a peace deal this year.
Greek and Turkish Cypriots started peace talks in September 2008, the latest bid to end a conflict harming Turkey's efforts to join the European Union and ties between NATO-allies Greece and Turkey.
The island was divided in 1974 when Turkey invaded Cyprus's north in response to a Greek-backed coup. A Greek Cypriot government represents the island in the European Union. It will not consent to Turkey joining the bloc until there is a deal.
A settlement would foster closer business ties in the region and speed up the economic integration of Cyprus, a declaration endorsed by the Turkish Industrialists and Businessmen's Association (TUSAID), the Hellenic Federation of Enterprises (SEV) and local business groups said.
"The organisations hope that the negotiations of Turkey with the EU and the continuing negotiations between the communities of Cyprus will facilitate an acceptable solution to the long-running Cyprus question within the present year," they said.
Cyprus is also a member of the euro zone, though effective membership is limited to its south, controlled by the internationally recognised government. Business transactions between the two sides, split by a U.N. controlled buffer zone, are regulated via a European Union regulation and a raft of bureaucratic processes.
A deal would also benefit business ties between Greece and Turkey, the vice-president of the Greek business group said.
"In a globalised environment which is suffering economically neighbouring countries must work together as much as possible to pull themselves through the crisis," Thanasis Lavidas said.
The EU has frozen part of Turkey's entry talks because of its refusal to open ports to Greek Cypriot traffic until a deal on the island.
Turkish Cypriot leader Mehmet Ali Talat, who represents his community in peace talks, has indicated he may not seek re-election in polls scheduled for next year if a settlement is not reached by the end of the year.