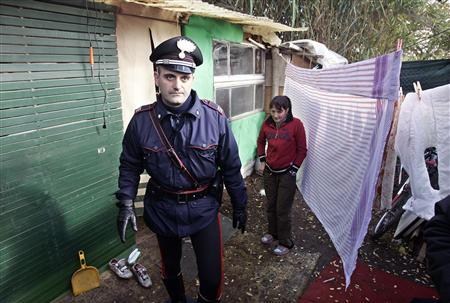 ROME  – When police arrested two Romanians for the rape of an Italian teenager in Rome, Il Giornale, a paper owned by the family of Prime Minister Silvio Berlusconi, reported: "The Romanian beasts have been caught."
Three weeks later, prosecutors admitted the "beasts" could not be guilty — DNA tests had ruled them out — and Italians were left wondering whether growing anti-immigrant sentiment had played a role in a hurried investigation.
"The discovery that these two Romanians accused of rape are not guilty is a real slap in the face for our national conscience," wrote commentator Lucia Annunziata in an editorial in La Stampa newspaper.
"The whole country was duped on a path of hasty and crude racism," she wrote.
Xenophobic feelings have been brewing in pockets of Europe in recent months, fuelled by economic downturn as locals and immigrants compete for fewer jobs and ever lower wages.
There has been racist violence in the Czech Republic and Hungary, migrants who flocked to Russia looking for work in the boom have been threatened or abused, and tensions are mounting between immigrants and Spaniards competing for shelter and work.
In Italy, which started to attract large flows of immigrants only about 20 years ago, the catalyst seems to be growing fear of crime — even though statistics show the number of murders, for example, is below the European average.
Botched investigations are far from uncommon. But the Rome rape case triggered a media and political frenzy that is becoming increasingly frequent, in the homeland of the Mafia, when a crime is blamed on foreigners.
This is particularly evident in the case of Romanians, whose community in Italy has swelled to about one million since the country joined the European Union in 2007 and they were able to freely travel and find work in Italy.
"There is a presumption by big sectors of the society that all these foreigners — and Romanians in particular — are violent. It's starting to be a given," said James Walston, professor of Political Science at Rome's American University.
Critics say Berlusconi's government, which won power last year on a law-and-order ticket encouraged by his anti-immigrant Northern League allies, has stoked that fear and may now find it difficult to control.
"We are a long way away from lynch mobs, but we are going in that direction. This could get serious," said Walston.
CITIZEN PATROLS
Two days after the Romanians were arrested on February 18, Berlusconi passed an emergency decree toughening penalties for sex offenders and legalising citizen patrols.
He said the measure would help stamp out the unregulated vigilante groups that have been roaming at night in some cities, but opponents say it recalls fascist-era memories of Benito Mussolini's infamous volunteer squads for national security.
Police in the meantime had bulldozed the camp where the two Romanians — aged 20 and 36 — used to live.
Berlusconi said the number of sexual assaults had actually fallen in the past year, adding that his executive was acting to quell public outrage sparked by highly publicised rapes, like the one in Rome, for which immigrants are mostly blamed.
He had already rushed through new laws against illegal immigrants, deployed soldiers in big cities to fight crime and ordered a census of around 150,000 Roma people or gypsies.
Romanians are commonly identified with Roma, although around half of them are native Italians.
But Romania's government, which has accused Rome of fanning xenophobia, did little to reassure Italians when it said 40 percent of Romanians wanted for crimes in their own country now lived in Italy, because of its slow and lenient judiciary.
NO INTEGRATION
In the Rome area where the rape was committed at the Caffarella park on Valentine's Day, news that the two Romanians had been cleared provoked anger and disbelief.
"I'm angry. I'm not racist, my maid is Romanian. But Romanian men are bad, they are all bandits," said 65-year old Silvana Pallotti, who since the rape has joined a newly created neighbourhood committee to protect women.
Marzio Barbagli, sociology professor Bologna University and author of a book on crime and immigration, says the percentage of immigrants accused of crime has risen over the past 20 years in all categories considered, from murder to mugging.
In the case of sexual violence, it rose to 40 percent in 2007 from 9 percent in 1988, as the number of assaults reported to police rose nearly fivefold. But he said such statistics must be put into context.
"The increase in the number of rapes can also depend on the fact that more of them are reported," said Barbagli. "And a victim would be more likely to report a rape by a stranger, rather than by someone she knows."
Italy's ageing population — and the shrinking 15-25 age group, statistically the most likely to commit crime — could also explain why fewer Italians may be committing certain offences, said the professor.
Illegal immigrants, often living in squalid shanty towns, are far more likely to perpetrate crimes, said Barbagli, but much of the blame lays with politicians.
"We have lax expulsion rules, so only 25 percent of the illegals are actually kicked out. On the other hand, there has never been a proper integration policy — be it through education, welfare, healthcare or even citizenship."
For ordinary Italians, the perception of rising crime is hard to shake off.
On an afternoon tube ride, an old Italian woman ranted against two men with eastern European traits sitting next to her. As they stood up to get off the train, the other passengers clutched their bags a bit closer to their bodies.
"The truth is, whether you are a communist or a fascist or anything in-between, when you see a Romanian getting on a bus at night you check your wallet," said 24-year old Alessandra Bruni, a barwoman who helped the rape victim after the attack.