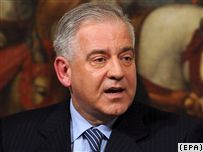 ZAGREB – Croatia's Prime Minister Ivo Sanader will visit Serbia on March 20 for the first time since his country's recognition of Kosovo angered its Balkan neighbor.
Relations between the two ex-Yugoslav republics improved in the past decade after the ethnic wars of the 1990s. But Serbia recalled its ambassador from Croatia after it recognized Kosovo, Serbia's former province, as an independent state last year.
"Kosovo did slow down and cool our relations. But with this visit, we want to stress how much importance we attach to stability in the region. We want to prove that we want cooperation and not confrontation," a government official said.
Regional cooperation is an element of Croatia's European Union membership criteria. Croatia hopes to complete EU entry talks this year or next, while Serbia plans to apply for membership and become a candidate this year.
Sanader will meet Serbian Prime Minister Mirko Cvetkovic and President Boris Tadic to discuss the global economic crisis and cooperation in the energy sector, the official told Reuters.
They will also discuss issues that remain a legacy of Croatia's 1991-95 war of independence — the return of Serbian refugees and their property, treatment of minorities, and the fate of some 1,000 Croatian war casualties still unaccounted for.