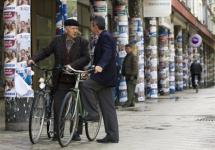 Politicians representing ethnic Albanians in south Serbia will join the work of the government's Coordination Body for South Serbia in the next few days, Sima Gazikalovic, one of the vice-presidents of the institution, told Balkan Insight.
Gazikalovic said that according to the negotiations, Albanians would get the position of deputy president of the Coordination Body with an office in Belgrade, while local Serbs would be able to receive part of the responsibility of governance in Bujanovac and Presevo, two municipalities with majority ethnic Albanian populations which in 2000 and 2001 were the scenes of armed conflict between Serbian security forces and insurgent Albanians. 
The conflict ended with the help of mediation of the international community and NATO.
The Coordination Body is a government's institution formed in late 2000 that aims to resolve conflicts and create conditions for economic progress and coexistence between Albanians and Serbs. Albanians have not taken part in the work of this body since 2007.
"The greatest obstacle was the earlier decision by the government not to recognise university diplomas from Kosovo, but the problem was overcome with the decision to recognise diplomas verified by the international civilian mission, UNMIK," said Gazikalovic.
The news that ethnic Albanians would re-join the Coordination Body and and that Serbs would take part in local rule in Bujanovac was confirmed by one of the officials of the Party for Democratic Action, whose leader Riza Halimi is the only Albanian MP in the Serbian Parliament.
"It is a result of talks the leader of our party is conducting with Belgrade's authorities," a party member who wished to remain anonymous told Balkan Insight.
Remaining Albanian leaders in the region, however, say it is still uncertain whether and when their parties will join the work of the Coordination Body.
Ragmi Mustafa, speaker of the local parliament in Presevo, says that no definitive decision has been made.
"There is still no agreement among Albanian parties. We urge that all Albanian parties be included in the work of the Coordination Body and not only those who are in power," said Mustafa, leader of the Democratic Party of Albanians.
Jonuz Musliu, one of the commanders of the Liberation Army of Presevo, Medvedja and Bujanovac – the armed ethnic Albanians guerrillas who fought the government – and parliament speaker in Bujanovac, confirmed to Balkan Insight that the Albanian leaders are still negotiating among themselves.
Stojanca Arsic, one of the leaders of the Serbs in Bujanovac, expects a positive outcome of the talks.
"Albanian parties are currently in power in Bujanovac, despite 40 per cent of citizens voting for Serbian parties at the elections in May 2008. The only chance for progress of the region is multi-ethnic rule and integration of Albanians into state institutions," Arsic told Balkan Insight.