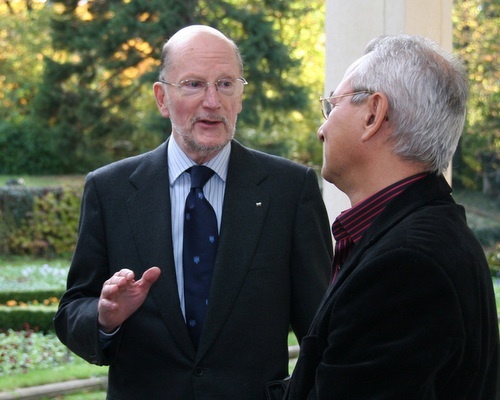 Bulgaria's former tsar and prime minister Simeon Saxe-Coburg did not rule out joining forces with the ethnic Turks ahead of the general and European Parliament elections in the summer.
The NMSP centrist party leader confirmed talks on forming a pre-election coalition with the Turkish DPS are underway just days after the information was officially denied.
"The topic is being discussed and this is only natural," Simeon Saxe-Coburg told journalists on Wednesday.
Asked whether the parties, which are part of the Liberal European family should run on a joint ballot in the upcoming elections, he said:
"This is a question that pops up all the time. This is a matter of assessment, strategy and tactics."
The coalition proposal that the leader of the ethnic Turks in Bulgaria extended to the centrist party of former tsar Simeon Saxe-Coburg at the beginning of March ignited high emotions on both fronts.
The offer was vehemently opposed by the leadership and file and rank members of the centrist National Movement for Stability and Progress (NMSP), who described a coalition with Ahmed Dogan as "a kiss of death".
Echoing this comment, Lyutvi Mestan, deputy chair of the predominantly ethnic Turkish Movement for Rights and Freedoms, said: "Everything is possible between liberal partners, including "a kiss of death", which may eventually turn out to be "a kiss of resurrection."
The coalition proposal was reportedly voiced at an informal dinner of the leaders of the three coalition partners – Sergey Stanishev, Ahmed Dogan and Simeon Saxe-Coburg, at the end of February, right before the seventh no-confidence vote against the Socialist-led cabinet.
If accepted, the coalition format will be applied at the European Parliament elections, which, NMSP members fear, will irreversibly dash their hopes for a decent performance as a single runner in the general elections.
Simeon Saxe-Coburg's party swept the elections in 2001, but has since seen its influence increasingly fade. Currently a member of the ruling coalition, it is said to enjoy a very slim chance to make it into the next parliament.