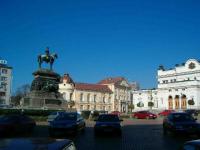 The Bulgarian government will allocate an additional 190 million euro to training and job creation in an attempt to offset the effects the economic slowdown is having on the labour market, Social Minister Emilia Maslarova said.
The new funds, under the Human Resources Operational Programme will be aimed at improving qualifications, provide jobs for 7,000 unemployed and train 40,000 individuals who were fired due to the global economic crisis.
The social ministry aims to secure jobs for 32,000 people for no less than nine months.
More than 150 000 people have joined the programme so far under 800 projects worth 255 million leva, Maslarova said, calling on businesses, unions, NGOs and local governments to waste no time and tap into the resources.
The Human Resources programme is supplemented by a 190 million leva national employment plan. Funding is currently available for the training and qualification of poorly educated and semi-literate people. Some 65 million leva were recently channeled to similar programmes targeting youths and the long term unemployed aged over 50.