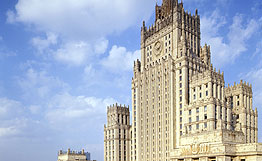 MOSCOW- Russia will not back away from its recognition of Abkhazia and South Ossetia in order to begin a dialogue on relations with Georgia, the Russian Foreign Ministry said on Thursday.
Davaid Bakradze, a spokesman for the Georgian parliament, said on Thursday that Tbilisi was ready to begin a dialogue with Moscow, but only starting from the principle of Georgia's territorial integrity, meaning Russia should reverse its decision to recognize the two former Georgian republics. 
"This is a new element in the approach, but it must not be on the condition of territorial integrity. There is no way back. Abkhazia and South Ossetia have been recognized by Russia as independent states and they should be treated equally. Other approaches are unacceptable," spokesman Andrei Nesterenko said.
At a meeting with Georgian students, Bakradze said it was possible to solve all problems with Abkhazians and South Ossetians only if they "are part of Georgia."
Georgia severed diplomatic ties with Russia in late last August after Moscow recognized the breakaway republics of Abkhazia and South Ossetia as independent states. The move followed a five-day war with Georgia, which began when Tbilisi attacked South Ossetia on August 8, 2008, in a bid to bring it back under central control.
Abkhazia and South Ossetia have had de-facto independence since they broke away from Georgia after the bloody post-Soviet conflicts in the early 1990s.