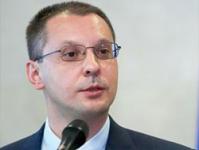 Prime Minister Sergey Stanishev has told the Reuters news agency that his party must win forthcoming parliamentary elections to stop the opposition implementing what he describes as "dangerous" economic plans.
Stanishev said that Bulgaria did not need experiments with fiscal policy to deal with the global downturn as offered by the opposition.
"It is a responsibility of the Socialists to win and be the leading party not because it is my wish but because there are many serious risks linked with the policy, the behaviour and the interests of the (opposition) GERB party," he said. "In times of crisis, huge prudence is necessary. The first condition is not to act stupidly," he said, adding he would like to become premier again if his party was re-elected.
Reuters notes that the party of key opposition figure and Mayor of Sofia, Boyko Borissov, has increased its lead over the Socialists against the background of the global recession.
"The number of Bulgarians who want the coalition government to go have risen to about 80 percent, polls show," reports Reuters.
In the interview Stanishev apparently told Reuters that GERB's economic programme would damage the country. "It consists of conflicting things and it is dangerous," he said. "There were things there…which spoke about a massive increase in incomes and at the same time a sharp decrease in taxes."
Reuters reports that Stanishev has resorted to various measures to appease voters in the run-up to elctions, citing free holidays for some pensioners and the creation of new jobs. The news agency quotes Stanishev as saying he regretted not doing more to ensure that Bulgaria had managed post EU accession aid more carefully but stressed that "every reform is tough and reform does not bring effects for six months or a year….We have undertaken huge efforts to address weaknesses and defects."
Asked by Reuters why no one had been punished over the suspended EU aid, Stanishev said such a move would have brought about short-term political dividends but not results.