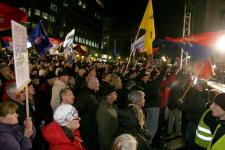 Two police officers and five members of the public were injured in clashes last night between a group of some 150 youths and police, during a protest marking ten years since NATO's bombing of Serbia.
28 people were arrested in the violence, Serbia's B92 network has learnt from police sources.
Groups of young men clashed with the police in various locations around the city. 
The most violent was at Zeleni Venac, where the McDonalds fast food restaurant had its windows smashed in. Hooligans also damaged two another McDonalds restaurants.
They also attacked a camera crew from TV Studio B. An assistant and a cameraman, who did not wish to comment on the incident, sustained minor injuries and parts of their equipment were destroyed.
The crowd carried banners from movements such as Obraz, 1389, the Nasi ('Ours') Association, the Ravnogorski Movement, the Serbian Radical Party, while pictures of former Yugoslav President Slobodan Milosevic were also on full display.
The crowd yelled "Give us weapons!", "Kosovo is the heart of Serbia" and waving banners hailing Milosevic as the "hero of the Serbian nation."
Earlier, air-raid sirens wailed and church bells tolled on Tuesday as Serbia marked the 10th anniversary of NATO's air war to halt a violent crackdown on Kosovo by the then president Slobodan Milosevic.
People gathered at ceremonies by monuments to children and journalists killed in the NATO sorties as the sirens were sounded across the ex-Yugoslav republic for 60 seconds from midday (1100 GMT).
Bells of Orthodox churches tolled for the victims at 7:45 pm (1845 GMT), the moment NATO's first attacks were launched 10 years ago.
"The attack on our country was illegal, contrary to international law, without a decision by the United Nations" Security Council, Prime Minister Mirko Cvetkovic told a special commemorative sitting of his cabinet.
"The air strikes have not solved problems in Kosovo, and did not help to bring peace and the rule of law," he said, after schools held a minute's silence before class.
NATO launched the strikes on March 24, 1999 after Milosevic refused to agree to a peace deal to end his forces' crackdown on the rebel Kosovo Liberation Army, KLA, and the ethnic Albanian majority in the southern territory.
It set out to destroy military targets, and went on to strike infrastructure and the Milosevic propaganda machine. But some strikes hit civilian sites and even the Chinese embassy in Belgrade.
After 78 days, Milosevic eventually conceded, paving the way for NATO to enter Kosovo, where some 15,000 NATO-led peacekeepers remain to this day.
At the later nationalist rally, protestors, many of them shaven-headed youths dressed in football strips, shouted anti-NATO slogans, waving Serbian and Russian flags.
"Serbia-Russia, we do not need the Union (European Union)," one of the placards said.
A strong police presence was deployed in a bid to prevent riots by hardline nationalists, who had smashed Western-owned shops and McDonald's restaurants during protests against Kosovo's declaration of independence in February 2008.
Obraz – an informal association – neither registered as a non-governmental organisation or a political one, had a key presence in Tuesday's demonstration.
The organisation was banned by the assembly in Serbia's northern autonomous, and ethnically-diverse province of Vojvodina in 2004 when it's activities were described as neo-fascist.
Since then Obraz has not been active there, though is believed to carry out its activities under a variety of different guises.
Meanwhile there have been protests at Obraz's presence at a book fair in Serbia's northern city of Novi Sad.
Their stand features books such as "AIDS – Faggot Brigade" and "Einstein and Freud – Two Fake Jew Greats," as well as a book written by wartime Bosnian Serb leader, Radovan Karadzic, who faces charges of war crimes at The Hague Tribunal.
"The presence at the Novi Sad Book Fair of this organisation and its publication raises its profile, and promotes religious, national and all other types of hatred in breach of the Serbian Constitution," a group of non-governmental organisations wrote in an open letter to Novi Sad Mayor Igor Pavlicic and members of the City Council.