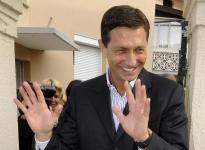 The European Commission is seeking an explanation from Paris over French car-making giant Renault's decision to recall some of its production from Slovenia to France.
"The commission will ask the French authorities for explanations," said the Commission spokesman on competition issues Jonathan Todd.
French Secretary of State for Industry Luc Chatel announced in Paris earlier on Friday that Renault was to shift part of its production from abroad to near Paris after receiving state aid in exchange for a promise not to shut French plants or axe French jobs.
"What is astonishing in this case is that the industry minister Luc Chatel made the declaration which would be directly linked to a French automobile plan," said Mr Todd.
Despite a furore amid claims of French protectionism, Slovenian Prime Minister Borut Pahor played down the issue, on the sidelines of a European Union summit in Brussels.
"As far as I'm informed it is very normal, it's okay. But I have to be cautious," he told reporters.
French President Nicolas Sarkozy said he had assured Slovenia that it "would not lose one job" due to the transfer.
Renault last month said its net profits collapsed by 78 per cent in 2008 amid a dramatic drop in global demand for cars following the credit crunch. Sales fell 30 per cent in the fourth quarter and seven percent for 2008 as a whole.
Renault said in a statement that the measures were necessary to solve an under-capacity problem.
Clio cars currently produced at the Novo Mesto plant in Slovenia would be produced at the Flins plant near Paris from June, it explained, saying the move would create 400 jobs.
The carmaker said its Slovenian plant would step up production of the Twingo model. It did not say whether any Slovenian jobs would be affected.