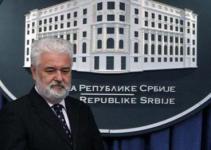 Ruling Democratic Party and G17 Plus officials in Serbia have concluded that the number of government ministries should be cut in a bid to cut costs, Belgrade daily Blic reports.
Citing a source from the Democratic Party, Blic reports that the number of government ministers should be cut in proportion to the number of ministries each one of the government coalition partners hold.
The idea is to decrease of the number of ministries from 25 to 20 or even 15.
The Democratic Party and G17 Plus previously reached an agreement with their coalition partner, the Socialist Party of Serbia, SPS, to discuss this plan while the final agreement will wait for President Boris Tadic to return from New York.
According to preliminary agreement, the Democratic Party is to give away three ministries, G17 Plus one and SPS one.
According to Blic, even with this decrease the Serbian Government would still be too big.
According to European standards, a country of the size of Serbia with a population of 10 million should not have more than 15 ministries and only one Deputy Prime Minister who would at the same time occupy the position of a police, finance or foreign minister.
Currently, Serbian Government has three Deputy Prime Ministers: Ivica Dacic, who is also Interior Minister, Bozidar Djelic, Deputy Prime Minister for EU Integration and Minister of Science and Technological Development and Mladjan Dinkic, Deputy Prime Minister and Minister of Economy and Regional Development.
Slobodan Ilic, the State Secretary in the Ministry of Finance confirmed to Belgrade's B92 network that there are ideas about decreasing the number of ministries but he also said that there is no agreement between members of the rulling coalition when it comes to the exact number of ministries.
He added that this action would not contribute very much to the saving, but it suppose to have psychological effect on the employers, public companies and local self-governments and to show them that government seriously thinks about saving.