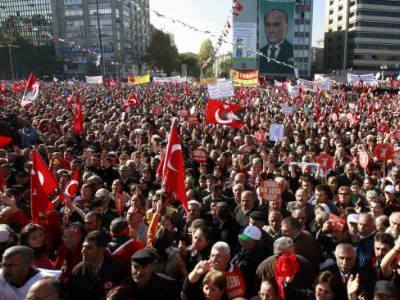 Today, Kenan Evren, the leader of a 1980 military coup is falling from grace as are other coup-era generals in Turkey.
For decades, he was the embodiment of a Turkish "pasha" general, one of those stern custodians of the republic's secular principles, always ready to step in to salvage the motherland from chaos with a coup.
Today, Kenan Evren, the leader of a 1980 military coup is falling from grace as are other coup-era generals in Turkey as the country seeks European Union membership and a more modern, Western image. Analysts say the unprecedented turn of events will reduce political risk long plaguing the emerging economy.
The city council in Izmir, Turkey's third largest city, voted earlier this month to rename all primary schools and high schools named after Evren or his coup. One council member said the retired general was a "black mark" on Turkey's history.
The change would have been unthinkable a few years ago in Turkey, where the military has traditionally been beyond reproach and generals are often referred to reverentially by the old Ottoman term pasha.
But social changes and EU-oriented liberal reforms have eroded the influence of the military, which has unseated four elected governments in the last 50 years.
An investigation into a shadowy ultra-nationalist group accused of plotting to topple Turkey's current Islamist-rooted AK Party government has put the army on the defensive, although it has denied any links to the alleged conspiracy.
A court agreed on Wednesday to hear a case against 56 more people accused of plotting to topple the government, including two retired generals for whom prosecutors are seeking life in prison.
"The old idea that the army is there to step in and save Turkey from whatever it has to be saved from is over," said Hugh Pope, author of books on Turkey and an analyst with the International Crisis Group.
"The Turkish military is becoming more European and Turkish society is discussing these issues in a way it was not possible to discuss them in the past," Pope said.
Even Evren, now in his 90s and spends his days painting nudes and landscapes near the Mediterranean, was blase about his name being wiped off the schools.
"They gave these names to schools. Now they remove them," the reclusive general told reporters.
According to Sabah newspaper, there are more than 30 schools across Turkey named after Evren, who was chief of general staff when the army stepped in on Sept. 12, 1980, rounding up politicians, dissolving parliament and executing opponents.
Evren later handed over power to civilians but served as president between 1982 and 1989.
TRUSTED INSTITUTION
Turkey's military, NATO's second largest army, has long seen itself as the guarantor of democracy and stability at times of domestic instability, the ultimate remedy to what an analyst calls the "Turkey-is-on-the-brink-of-collapse" syndrome.
Past putsches known in the local rich coup lexicon as "Coup by Memorandum", the "Post-Modern Coup", the "Judicial Coup", the "e-Coup" were carried out to end anarchy or perceived threats from Islamists. Today, they are blamed for stunting democratic growth and bequeathing the country a weak and divided system.
EU reforms have consolidated the submission of the army to civilian power and few believe coups are possible today.
Former armed forces chief General Huseyin Kivrikoglu, who once famously proclaimed that the spirit of the Feb. 28, 1997 intervention "would last 1,000 years", told reporters that military coups in Turkey were something of the past.
"The era of coups is over. There is no need for that. If problems arise, the chief of staff meets with the prime minister or the president and they discuss the issue," he said.
Still, opinion polls show the army tops the list as Turkey's most trusted institution — partly because it reflects public opinion that elected civilian officials are not to be trusted.
A survey conducted by polling centre Konda found that 34.9 percent of respondents believed the military should take over the government "when necessary".
"We still do not leave the country in hands of elected ones. We still push the military," leading Turkish columnist Mehmet Ali Birand wrote in an opinion piece, part of an "Is the era of coups over?" debate in the media sparked by the 12th anniversary of the 1997 post-modern coup.
Evren's bloodless coup ended years of escalating violence between left and right, arguably saving the country from civil war. After three years of army rule and mass arrests in which the constitution was suspended, popular support melted away.
Liberals say the Ergenekon investigation, in which 86 people including retired senior officers are already on trial, is proof the army is no longer untouchable.
Turkish media have run stories about "coup diaries" said to belong to a senior navy commander, with supposed plans for coups in 2004 and 2005 codenamed "Blonde Girl" and "Moonlight."
Newspapers have also speculated that retired General Hilmi Ozkok, who served as chief of the General Staff from 2002 to 2006, may be asked to testify in the case.
Another former general staff commander, retired general Ismail Karadayi, has been linked to alleged recordings in which he supposedly describes his role in military interventions in 1960, 1980 and 1997. Some legal experts have speculated Karadayi could be brought into the Ergenekon case.
"The Pandora's box is definitely open in Turkey," said Semih Idiz, a columnist for liberal Milliyet daily.
"The big question now is how this administration is using this openness," Idiz said.