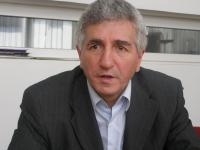 Ethnic Albanian officials in south Serbia have signed an agreement paving the way for their return to a peace coordination body set up in the tense region after the 2000-20001 conflict.
Ethnic Albanian representatives rejoined the Serbian government's Coordination Body for South Serbia, and the agreement was signed by Riza Halimi, the only ethnic Albanian representative in the Serbian Parliament, Milan Markovic, the chairman of the Coordination Body, and Hans Ola Urstad, the head of Organisation for Security and Cooperation in Europe's mission to Serbia.
The main goal of the agreement signed on Friday in Belgrade is the integration of ethnic Albanians into state bodies and institutions, and the inclusion of local Serbs into power structures in Bujanovac and Presevo.
"In the work of the Coordination Body, we will insist on multiethnic local authorities and the inclusion of Albanians in state institutions," said Markovic after the signing of the agreement.
"Our main goal is that young Serbs and Albanians disregard divisions based on ethnic background, and the priority in further work will be resolving problems in education, the preservation of safety and the economic development of the region," he said.
Riza Halimi, president of the Party for Democratic Action, said he expected that the agreement would allow the more efficient work of the government in south Serbia.
Mediators in the negotiations that led to the deal besides Hans Ola Urstad, were the ambassadors of the United States, Great Britain and France.
"This agreement is of crucial importance for the development of south Serbia," said Hans Ola Urstad and thanked everyone who participated.
The Bujanovac and Presevo municipalities have a majority ethnic Albanian population and border Kosovo and Macedonia. In 2000 and 2001, the region was the scene of armed conflict between Serbian security forces and Albanian fighters who called themselves the Liberation Army of Presevo, Medvedja and Bujanovac. The conflict ended through mediation of the international community and NATO.
The Coordination Body is a government institution founded in late 2000 with the aim of resolving the conflict and creating conditions for economic prosperity and the peaceful co-existence of Albanians and Serbs.
Ethnic Albanians left the body in 2007 in protest claiming their key demands were not being met.