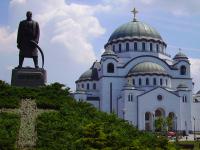 Churches and religious communities in Serbia are planning to join forces again to prevent the adoption of a Law on organ transplants, Balkan Insight has learned from a senior official from the Catholic Church.
Right now there's only a working version, draft of this law, which means it is far from parliamentary procedure but as soon as it gets there, the churches are ready to intervene one more time, after an attempt to pressure the government to change the anti-discrimination law earlier this month. 
According to the draft of the transplants law which is published on the website of Ministry of Health, every adult citizen in Serbia will be able to offer his organs by themselves either in the presence of a witness, or by their attorney. In case of the death of a potential donor, their family should decide about organ donation.
It is still unknown what exactly the church's objections are to the law. According to a Catholic Church source, the Serbian Orthodox Church and the Catholic Church in Serbia have already agreed on the issue, and are expecting the others – Jewish and Muslim leaders – to join them.
The transplants law is part of a package on new health laws made by the Ministry of Health. The whole package is a matter of public debate, since January. It is planned that the public debate runs on for three months which means it should end soon.
Similarly as with the anti-discrimination law, instead of taking part in the public debate, churches are waiting for the law to enter parliamentary procedure.
Besides the transplants law, the Ministry of Health has published working versions of the laws which will regulate the transplants of tissues and cells, the usage of stem cells, and blood transfusions. At the start of the public debate, the Ministry announced that these laws are in harmony with European Union legislation.