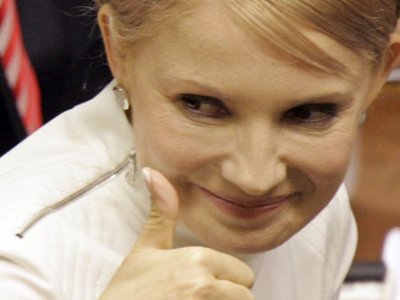 `I am pleased to announce that from February 1, payment for gas has been proceeding in timely fashion,` Tymoshenko said to the press.
Prime Minister Yulia Tymoshenko pledged on Thursday that Ukraine's state energy company Naftogaz would make timely, full payment for gas shipments in March by Russian giant Gazprom.
"I am pleased to announce that from February 1, payment for gas has been proceeding in timely fashion," Tymoshenko told a news conference after a cabinet meeting.
"In January, payment was made in full and on time, as was done in February. For March, the same payment will be made as set down in the contract. There will no longer be any instability in Naftogaz's activity."
Under a contract signed in January to end a dispute that led to an interruption of more than two weeks in supplies of Russian gas, Ukraine agreed to make payments for gas by the seventh day of the following month.
In case of a failure to pay, the contract specifies that Naftogaz will have to pay for supplies in advance.
"We are bringing together the funds for payment," Naftogaz spokesman Valentyn Zemlyansky said by telephone.
The standoff in January was linked to disputes over price and payment arrears, leaving millions of European consumers who rely on flows through Ukraine's pipelines without supplies of Russian gas.
Tymoshenko, estranged ally of President Viktor Yushchenko, clinched a deal to end the standoff under which Ukraine is to pay more for its gas — $360 for 1,000 cubic metres in the first quarter against $179.50 last year.
The president criticised the accord as a "defeat", while the prime minister said it was the best available deal.
Naftogaz has secured credits from state banks to help make payments to Gazprom.
Ukrainian media say the primary creditor is state Oshchadbank, which provided 19.33 billion hryvnias ($2.51 billion) and estimate Naftogaz's debts at about 34.5 billion hryvnias ($4.5 billion). The company is believed to have to pay off about 25 billion hryvnias in debt this year.
The company says its financial problems are compounded by the low rates that Ukrainian utilities still pay for gas.
Parliament has yet to consider a plan to balance Naftogaz's finances as part of legislation needed to restore the flow of credits from a $16.4 International Monetary Fund loan.
The government last week said it planned to loan money to Naftogaz to allow gas to be stockpiled in underground storage areas. It also said it would ask the central bank to sell it dollars at the lower official rate.