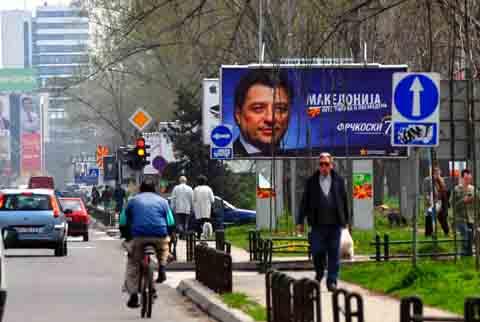 TIRASPOL: As voters in the ex-Soviet republic of Moldova go to the polls today, half a million residents of an impoverished rebel province in the east of the country won't take part. For the people of Transdniestr, which broke from Moldova after the collapse of the Soviet Union, all roads lead only to Russia.
"We don't know what the future will bring, but Transdniestr must join Russia and surely not Moldova," said Vladislav, a 25-year-old designer and resident of Tiraspol, the rebel region's self-styled ca
pital.
It's a view shared by most here, though Vladislav and others are quick to add that a fight should be avoided at all costs, saying they want nothing like the war over a separatist region in Georgia last August. That conflict has added a sharper edge to the decades-old dispute between Moldova and the predominantly Russian-speaking region of Transdniestr, which won de-facto autonomy in 1992 after the collapse of the Soviet Union.
A military intervention is highly unlikely, but we cannot exclude such a possibility in this strategic Black Sea region," Dmitry Soin, the head of "Break", one of a number of pro-Russia separatist parties, told AFP. But the unresolved conflict remains a source of instability on the European Union's border. A young and upcoming politician, Soin envisions forging "ties as deep as possible with Moscow, both in the political sphere and in the socio-economic sphere.
Signs of Russian influence, new and old, are everywhere in this ex-Soviet province, where a statue of Communist leader Vladimir Lenin still stands outside the local parliament. Street posters of Russian strongman Vladimir Putin are joined now by portraits of his successor, President Dmitry Medvedev, glued cheek-to-cheek with revolutionary hero Che Guevara on a store window in the city centre.
United for nearly 50 years, the Soviet collapse triggered a revolt by Transdniestr's Russian-speaking separatists opposed to wholesale incorporation into Romanian-speaking Moldova, itself a former province of Romania. In subsequent referendums, voters in this region populated by half a million people have consistently backed autonomy and unification with Russia, even though there is no common border. In 2007, 97 percent of voters supported joining Russia.
If Transdniestr were part of Russia "we would live better", local resident Nastia Bukhadorova, 25, said in the centre of the separatist capitol Tiraspol.
Her view was shared by 60-year-old pensioner Lyudmila, whose mother lives in Russia and who holds Russian citizenship as do many in the province. Both women expressed vehement hopes that the region not slide back to armed confrontation.
Talks on Transdniestr's status restarted last year after a nearly seven year freeze, but public opinion has split since Russia recognised Georgia's breakaway regions Abkhazia and South Ossetia last autumn. Some, like Lyudmila, hope for unification with Russia. Others wait for Moscow to recognise the territory as independent.
We have hope now that Russia feels secure enough in its foreign relations. It wanted to recognise South Ossetia and Abkhazia, and it did! And that gives us hope that one day, Russia will do the same for Transdniestr," Soin said. But while its engagement in South Ossetia last year represented a policy u-turn for Moscow, Russia has moved in the opposite direction on Moldova. Moscow moved immediately after the war to reassure Moldova and block its rapprochement with the West, pledging neutrality as long as M
oldova remains outside of NATO