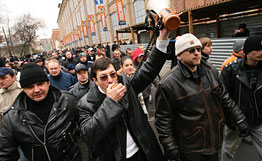 CHISINAU, April 6 – About 3,000 young people have gathered on a central square in Moldova's capital Chisinau to protest against the newly elected government, police said.
Some of the protesters are demanding Moldova's reunification with Romania, while others are chanting "Down with the Communists!" Traffic along the city's thoroughfare has ground to a halt, but police say they have the situation under control. 
Moldova's Communist Party, led by President Vladimir Voronin, garnered 50% of the vote in Sunday's parliamentary election.
"Police are not intervening in the situation, as there are provocateurs in the crowd, ready to start clashes and riots. However, if demonstrators start acting dangerously, other methods of subduing them will be used," a city police spokesman said.