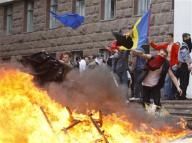 CHISINAU – Moldovan police have detained 193 protesters in the capital Chisinau, including eight under-aged people, Russian RIA news agency quoted the Interior Ministry as saying on Wednesday.
"They have been charged with looting, hooliganism, robbery and criminal attacks," RIA quoted a ministry spokeswoman as saying.
Demonstrators protesting against the election victory of the ruling Communist party ransacked the president's offices and set fire to parliament in an action described by President Vladimir Voronin as a coup d'etat. The police now say they fully control Chisinau.