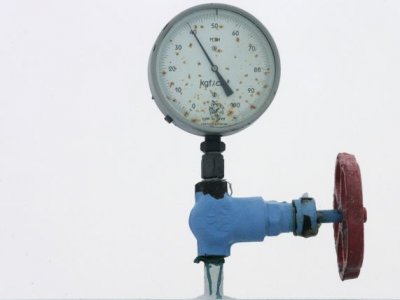 Russia threatened to fine Ukraine on Tuesday for failing to buy enough gas in the first quarter, increasing pressure on its neighbour at a time when the World Bank said Kiev's economy was contracting fast.
Alexei Miller, chief executive of Russia's state-run gas giant Gazprom, told Reuters the corporation was in talks with Ukrainian counterparts over possible sanctions over lower than agreed gas imports.
"We are discussing this with our Ukrainian colleagues. This is spelt out in our agreements," he said.
The threat dealt a further blow to Ukraine, which is facing growing anger sparked by the authorities' handling of the economic crisis and political wrangling over the date of the next presidential election.
Gazprom had previously said it would not impose fines, in recognition of Ukraine's dire financial plight.
Russia's apparent rethink comes after Ukraine's leaders — squeezed between traditional loyalty to former Soviet master Moscow and a desire to move closer to the West — angered the Kremlin by signing an agreement in Brussels to overhaul Ukraine's ageing pipeline network.
Russia, which supplies a fifth of Europe's gas needs through Ukraine's pipelines, was furious that it had not been consulted.
Ukraine's state energy company Naftogaz said on Tuesday it had paid its March gas bill to Gazprom.
Analysts believe that although the gas bill is set to decline as gas prices get adjusted to oil with a lag of six to nine months, it is only a matter of time before cash-strapped Ukraine runs out of money it needs to pay Gazprom.
DOWNSIDE RISKS
Adding to Kiev's woes, the World Bank predicted on Tuesday Ukraine's economy would contract by 9.0 percent this year, rather than the 4.0 percent it had forecast before.
Things could get worse, it added.
"We…still see downside risks to this forecast should the external environment deteriorate further and/or the authorities delay critical anti-crisis steps…" the Bank said.
"To face the current economic downturn, slow the trend of rising unemployment, and lay the foundations for a quick economic recovery, a comprehensive, inter-linked and consistent anti-crisis programme…is urgently needed in Ukraine."
The Bank also predicted that inflation, fuelled by a big devaluation of the hryvnia currency, would spiral to 16.4 percent this year against an earlier forecast of 13.6 percent. Inflation last year was even higher at 22.3 percent.
Ukraine's fractious politicians have yet to agree on putting in place a comprehensive anti-crisis programme quickly. Its leaders cannot even agree when to have the next presidential vote — whether to hold it in October or January.
The International Monetary Fund has promised to send a mission this week to discuss the resumption of crisis lending, suspended after Kiev's failure to enact sufficiently comprehensive anti-crisis measures.
The main opposition party held its biggest rally in two years on Monday in the capital, demanding the resignation of the country's leaders for failing to tackle the crisis.
Meanwhile, Russia sees an opportunity to increase its leverage in its former Soviet vassal.
Moscow has been dangling the prospect of a $5 billion stabilisation loan to Ukraine but told Kiev last month it would not negotiate further until the Brussels gas deal was clarified.
Moscow has been also working hard to persuade the European Union to rethink the pipeline overhaul deal with Kiev.
"I think what was recently agreed upon in Brussels should once again be re-examined critically. We must find a solution that includes Russia," Germany's Economy Minister Karl-Theodor Zu Guttenberg told reporters on a visit to Moscow on Tuesday.