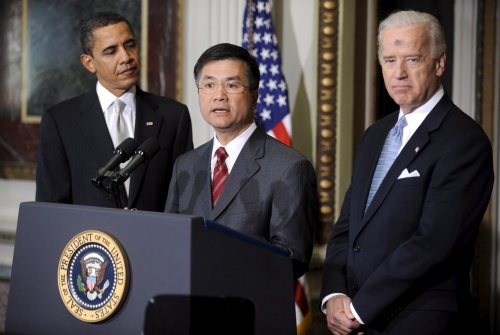 The US Secretary of Commerce, Gary Locke, has congratulated Bulgarian Foreign Minister Kalfin on Bulgaria's stable economy and banking system.
Kalfin completed his two-day visit to the USA with a meeting with Locke, thus becoming the first high-ranking foreign official that the US Secretary of Commerce has welcomed since assuming office last week.
Gary Locke also congratulated Bulgaria's Foreign Minister Kalfin, who is also the Deputy Prime Minister in charge of the economy, for the country's substantial foreign currency reserves, which served as a stability factor amidst the global financial crisis.
Locke pointed out the substantial role that US investments have played in Bulgaria's economic development in the recent years.
The US Secretary of Commerce and the Bulgarian Foreign Minister stressed the areas with greatest potential for future economic cooperation included energy, renewable energy sources, infrastructure, environment-friendly technologies.
Gary Locke emphasized that the key factors to attracting more American investments to Bulgaria were improving the business climate, protecting intellectual property rights, and fighting corruption.