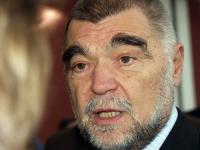 Croat President Stipe Mesic has insisted on an appeal to the International Court of Justice in order to settle its border dispute with Slovenia.
His comments followed press reports of a European Union proposed arbitration plan.
"A court must establish the facts and Croatia will accept any decision reached by a court," said Mesic, referring to the ICJ in The Hague, according to a report by the Hina news agency.
Slovenia has been blocking Croatia's EU accession talks since last December, demanding that the 18-year-long border dispute between the two former Yugoslav states be solved before negotiations with Zagreb resume.
Mesic told reporters the plan proposed by EU Enlargement Commissioner Olli Rehn made "no sense."
Rehn earlier this week proposed the creation of a council of five legal experts to suggest a solution to the dispute by the end of the year, according to a report quoting unnamed sources.
A meeting of the Croat and Slovenian foreign ministers, Gordan Jandrokovic and Samuel Zbogar, was due to take place with Rehn next week, Zagreb said.
Zagreb hopes to complete enlargement talks this year, which would set it on track to become its 28th member in 2010 or 2011.
While Slovenia views EU mediation as a way to resolve the dispute, Croatia considers it simply a stepping stone to a resolution before the ICJ.