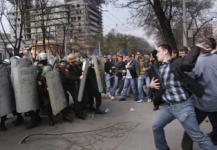 A recount in Moldova's disputed election, ordered after violent protests against a Communist victory, will produce no changes in the standing of parties in parliament, a top official says.
Election officials proceeded with the recount after Communist President Vladimir Voronin said such as step could re-establish trust in the former Soviet republic, now Europe's poorest country, wedged between Ukraine and Romania.
Opposition parties boycotted the ballot, saying it was pointless. They alleged fraud had taken place not in the count, but in the drawing up of voters' lists.
Iurie Ciocan, secretary of the Central Election Commission, said no figures from the recount would be released ahead of a long weekend when mainly Orthodox Moldovans celebrate Easter.
"Preliminary data from the recount show that the results will have no major changes. The relative strengths of the parties and the number of seats won will be maintained."
Results from the April 5 contest gave the Communists 49.48 percent of the vote and 60 seats — one short of the number needed to ensure victory for their candidate when parliament chooses a new president.
Three opposition parties, broadly pro-Romanian in outlook, scored a combined total of 35.34 percent and won 41 seats.
The recounted results must be turned over to the Constitutional Court, which formally ordered the recount and must validate the figures by April 22.
Voronin, in power since 2001, cannot run for a third term, but says he wants to keep a decision-making role.
The president says the protests, in which young demonstrators ransacked the president's office and parliament, were part of a plot to seize power and were fomented by Romania, which shares a cultural and linguistic heritage with Moldova.
Romania denies the charges.
Voronin this week called on legal bodies to proclaim an amnesty for most of the 200 protesters detained after international bodies accused Moldova of human rights violations.
Europe's only Communist leader, has long called for further integration with the West while preserving Moldova's longstanding ties with Russia.