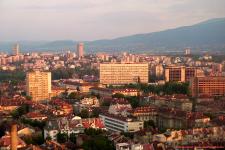 Bulgarians are becoming seriously concerned about the ongoing economic and financial crisis, according to a survey administered by the Open Society Institute in Sofia, the Dnevnik daily reported Wednesday.
The survey was administered in March and April this year and revealed that since last October, the share of people who expected the economic situation in Bulgaria to become worse had risen from 42 per cent to 54 per cent.
Fears of worsening unemployment rose from 20 per cent to 44 per cent. At the same time, expectations of increasing prices dropped from 32 per cent to 20 per cent.
People were showing more trust in the country's banking system (48 per cent) compared to last October (27 per cent).
The survey also sought out opinions on the actions of Bulgaria's Cabinet after the financial and economic crisis first emerged. Just 14 per cent of those polled thought that Prime Minister Sergei Stanishev's action plan had a positive effect. Sixteen per cent thought negatively of the plan and 68 per cent did not know what it involved, and felt that nothing was being done to fight the crisis and its effect on Bulgaria.
A few days before the release of the survey, Social and Labour Policy Minister Emilia Maslarova said that she suspected that someone was trying destabilise the labour market in Bulgaria.
She was referring to media reports that unemployment in Bulgaria was really about 13 per cent while she was quoted as saying it was 6.88 per cent.
"If unemployment was 13 per cent, then about 222,000 people would have lost their jobs in March," she said.
According to Maslarova, in March the number of people registered as unemployed was 254,899. Her projection for April was that unemployment would be no more than 7 per cent.