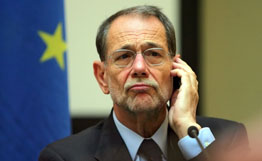 CHISINAU, April 24
The EU foreign policy chief Javier Solana will arrive in Moldova on Friday as part of a working visit following the recent riots in the country, a spokesman for Moldova's Foreign Ministry said.
During the visit, Solana is scheduled to meet with Moldovan President Vladimir Voronin to discuss the situation in the country following the April 5 parliamentary polls and future prospects for improving ties with the European Union. 
The Communists' victory sparked protests among opposition groups that turned violent in the capital, Chisinau. President Voronin requested the recount "to find a way out of the political deadlock, and restore the atmosphere of stability and trust in the newly elected parliament."
Moldova's Constitutional Court approved at a meeting on Wednesday the results of the recount, confirming victory for the Communist Party.
Observers from the Organization for Security and Cooperation in Europe earlier gave their overall endorsement of the voting process.