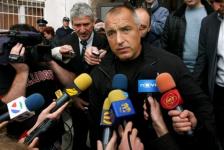 A recent survey shows that Sofia mayor Boiko Borissov's party, Citizens for the European Development of Bulgaria, GERB has the support of 23 to 24 per cent of Bulgarians intending to vote in the June 7 elections for European Parliament.
The senior partner in the tri-partite ruling coalition, the Bulgarian Socialist Party, was second with 15 to 16 per cent, followed by the other ruling coalition partner, the Movement for Rights and Freedoms, with eight per cent, Boryana Dimitrova from Alfa Research polling agency told Bulgarian National Television on 7 May.
The ultra nationalist Ataka party shared the same result as the MRF, she noted. The Blue Coalition formed by the two right-wing parties in opposition, the Union of Democratic Forces and the Democrats for a Strong Bulgaria, enjoyed about seven per cent of voters' preferences.
The third ruling party, the National Movement for Stability and Progress, has a chance to win perhaps one seat in the European parliament. The small-scale centre-right party, Order, Law and Justice, which recently has been reaping popularity because of the numerous media stunts of its leader Yane Yanev, has a similar chance.
According to Dimitrova, Bulgaria can expect a low turnout at these elections with about 33 per cent of the electorate voting. "This number, however, is higher than the turnout we had in the last elections for Bulgarian MEPs (in 2007) which were the only other European elections Bulgarians have voted at to date," she said.
Dimitrova also concluded that many interviewees failed to distinguish between voting at the elections for European Parliament and voting in the national parliamentary elections on July 5, just a few weeks after the European elections.
Dimitrova believes that this means that many people will not change their political preferencies between the two elections. "If we have a party that can claim to be the indisputable winner at the June 7 European elections, then this would most likely boost its results at the July 5 Bulgarian Parliament elections," she noted.
A few days before the presentations of the Alfa research survey a report by the European Parliament released on April 30 2009 also said that Bulgaria would have one of the lowest turnouts at the European elections. Only 30 per cent of Bulgarian respondents said that they would vote whereas 15 per cent said they would definitely not go to the polls. In contrast to Bulgaria, 72 per cent of Belgians and 48 per cent of Greeks said they intended to vote in their respective MEP elections.