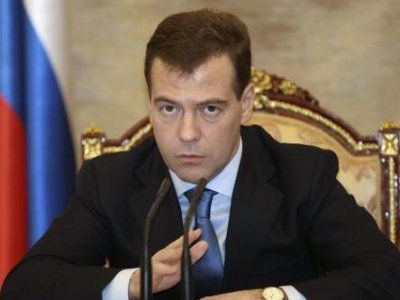 Loyalty to a common historical heritage could help mend ties between ex-Soviet Georgia and Russia damaged by a brief war last August, Russian President Dmitry Medvedev told Georgian World War Two veterans on Friday.
In a special message to the veterans, Medvedev recalled the Soviet Union's role during the war in defeating Nazi Germany, at a cost of almost 27 million military and civilian lives.
"Common fight against Nazi invaders is one of the most memorable and heroic pages in a multi-century book of Russian-Georgian friendship," Medvedev said in the message circulated by the Kremlin.
"Our common historical heritage, traditions of good neighbourliness and comradeship form a solid basis for restoring trust and mutual understanding between our peoples, peoples which have never been enemies."
Georgia lost a brief war against its former Soviet master last August when Russia crushed in days a Georgian assault on the rebel pro-Moscow region of South Ossetia.
Medvedev's message to the veterans coincided with Russia's efforts to heal relations with the United States and NATO, after tensions flared this week when Georgia accused Russia of being behind a failed mutiny at a military base.
Russia, which rejected the charge, criticised this week's NATO exercises in Georgia which it said threatened stability in the region and its Foreign Minister Sergei Lavrov pulled out of a NATO-Russia council ministerial meeting this month.
Lavrov and U.S. Secretary of State Hillary Clinton discussed Georgia during a meeting in Washington on Thursday and the topic is likely to be on the agenda when during President Barack Obama's first visit to Russia in July.
The brief war with Georgia has strained Russia's ties with the West and raised concerns about security in the broader Caucasus region which is viewed as a key link in projected alternative energy routes to Europe, bypassing Russia.
Medvedev has said Russia will never talk to Georgian President Mikheil Saakashvili but would be interested in discussing ways to improve relations with any future government.
"In spite of the fact that interstate relations between Russia and Georgia are now facing serious challenges, contacts between people and public organisations have not stopped," Medvedev said.
"All this allows us to hope that mutual attraction between the two spiritually close people will help us develop mutually beneficial relations of partnership," he added.