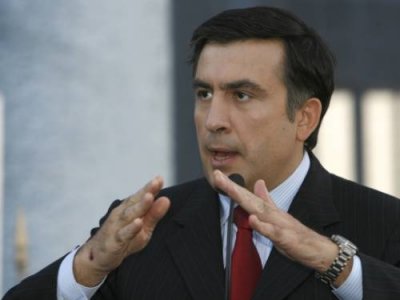 Georgian President Mikheil Saakashvili agreed to meet opposition leaders on Monday after a month of street protests in the former Soviet republic.
Clashes on Wednesday between police and protesters, a day after a brief, bloodless mutiny at a tank base outside Tbilisi, have fuelled fears of wider anti-government unrest in Georgia which is hosting NATO military exercises to the consternation of neighbouring Russia.
The opposition has been protesting since April 9 and blocked roads in the capital to back demands that the 41-year-old president resign over his record on democracy and last year's disastrous war with Russia.
Monday's meeting is set for 2 p.m. (1000 GMT) at the Georgian Interior Ministry.
"Mikheil Saakashvili expresses hope that the government together with all political forces will be able to overcome the existing problems in the country," the presidential office said in a statement on Sunday.
The government is offering talks on reforms to address accusations that Saakashvili has monopolised power, undermined the judiciary and repressed free media since coming to power on the back of the 2003 "Rose Revolution".
His offer is testing opposition unity. An alliance of more than a dozen parties is split between those who say they are ready to discuss the government proposals, and others who insist they will talk only about Saakashvili's orderly departure.
Some 20,000 rallied outside parliament on Saturday. Turnout was far higher than usual, to mark exactly one month since the campaign began.
NATO EXERCISES
"It's our first success of the past month," Salmoe Zurabishvili, one of the opposition leaders, told a rally on Sunday. "Saakashvili realised that he could not ignore the opinion of his own people anymore."
Analysts say the opposition appears to lack the organisation, numbers or unity to unseat Saakashvili.
Diplomats say the West, which poured billions of dollars into Georgia after the war, is pressing Saakashvili to follow through with promised reforms, or risk unrest.
Protesters clashed with police on Wednesday at a police base in Tbilisi, injuring 28 people. The West is watching closely for a possible repeat of a November 2007 police crackdown against the last peaceful mass demonstrations against Saakashvili.
The president has come under renewed pressure since last year's war when Russia crushed a Georgian assault on the breakaway pro-Russian region of South Ossetia.
The tank base mutiny, when authorities say commanders refused orders, has raised questions over the loyalty Saakashvili commands within the military.
Russian Prime Minister Vladimir Putin said on Sunday NATO's decision to launch month-long exercises in Georgia despite such turmoil was a signal of support for the government in Tbilisi.
"It cannot be seen as anything but support for the ruling regime," Putin said in an interview with Japanese media.