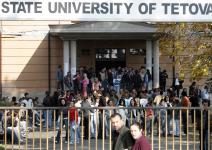 The Students' Parliament of the State University in Tetovo, DUT, called for an all out Albanian boycott of Tuesday's inauguration ceremony of Macedonia's new President Georgi Ivanov.
The students appealed to the heads of the ethnic Albanian parties in Macedonia, and Albanian President Bamir Topi to boycott the swear-in ceremony after speculations appeared in public that the President of Kosovo was not invited to attend in order not to upset his Serbian counterpart Boris Tadic.
"We, the students of DUT, are suggesting… to you, Mr. President Bamir Topi, not to take part in this inauguration, with the only goal to represent the interests of the six million Albanians," the statement says.
However, the ruling Democratic Union for Integration, DUI, and the opposition New Democracy, ND, at the last moment confirmed their presence. But the opposition Democratic Party of Albanians, DPA, is not attending.
Topi is attending the inauguration as announced.
The students' statement refers to Macedonia as FYROM, the acronym used in the UN under Greek insistence, and labels Ivanov "the so-called President".
The media controversy over Sejdiu's presence followed a set of contradictory statements by officials Pristina. On Sunday, Naim Jerliu, the spokesman of the Kosovo President, told Alsat M that they received the official invitation from Skopje.
But Sejdiu himself denied this on Monday. "I haven't got any invitation", he briefly told press after arriving at the Pristina airport from Turkey.
An unnamed source cited by local Alsat M TV claimed that Skopje did send an invitation but this was later returned to its office in Pristina.
Other media suggest that Sejdiu is not attending because Tadic is attending, and say Skopje has allegedly promised Sejdiu that he will be the first foreign official to visit Macedonia's new president after he steps into office.
Macedonia has not issued any statement to the press to clarify what happened.
Aside from the controversy with Kosovo, observers note that the appeal for the boycott is a sign that relations between Macedonians and ethnic Albanians in the country are slipping, in part due to the current government's decision to take a hard line on the name issue with Greece that has blocked the country's entrance into NATO. Albanians are strong supporters of NATO.