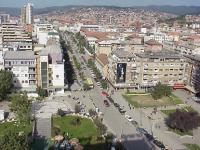 A Serb bank operating in Kosovo, Komercialna Banka, that was granted a license in 2006 by Kosovo's Administration, is not reporting its activities to the country's Central Bank.
Komercialna Banka is located in Mitrovica, Gracanica, Zubin Potok, Leposavic, Zvecan, Slivova, Shterpce and Dragash, areas populated by Serbian minority in Kosovo. 
Former managing director of Kosovo's Central Bank, Michel Svetchine said at the time when the license was granted to this bank that "Komercialna Banka has not been granted a full license, but it is a branch which has to report its activities to Kosovo's Central Bank".
But for the past two years since the bank was granted its license, Komercialna Banka has not published its balance sheets at the official web site of the Kosovo's Central Bank.
There are several Serbian banks operating in Kosovo whose function is dependant on Serbia's Central Bank. These banks refuse to report Kosovo's Central Bank and Kosovo's legal framework.