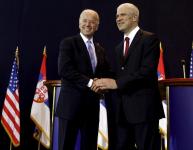 US Vice President Joseph Biden, on his second part of his three-day trip to the Balkans, said he had come to Belgrade to convey a message that Washington wants to improve relations with Serbia.
After meeting with Serbian President Boris Tadic, Biden said that "the U.S. wants to improve cooperation with Serbia, with the region, and to help Serbia become a factor for stability in the region." 
He said he had a very open and honest talk with Tadic on renewing relations between the two countries and on the crucial role that Serbia plays in the region.
He said Belgrade and Washington must find common ground and resolve their differences, primarily over Kosovo.
"Serbia has a central role in the region, which cannot prosper without Serbia playing a constructive leading role," Biden said.
"The US does not expect Serbia to recognise Kosovo's independence," he continued, and called on Serbia to plan a constructive role in the region."We will continue to insist that the Kosovo Serbs receive the greatest possible protection and participate in the decision-making process," he added.
He said the US would support Serbia's efforts to join the European Union and would invest its resources in making sure that Serbia could fulfill its European perspective.
Tadic echoed Biden's comments, saying that he hoped that the visit signals a new page in Serbia – US relations. "Vice-President Biden and I agreed that we now have an opportunity to establish a new level of communication between our two countries,'' Tadić said at a press conference after the meeting.
"I'm sure that with dialogue based on mutual respect, we can achieve a great deal," he added.
He repeated Serbia's position on Kosovo independence, saying Belgrade will not recognise the country, but emphasized that he wanted the "best possible partnership relations with America".
"There are many themes that unite us, that we view the same way, and that we can cooperate on. Those are primarily the Western Balkans' EU integration, and the struggle against international crime and terrorism," said Tadic.
Biden arrived in Belgrade at 10am local time Wednesday, after spending Tuesday in Sarajevo, and will go onto Pristina Thursday.