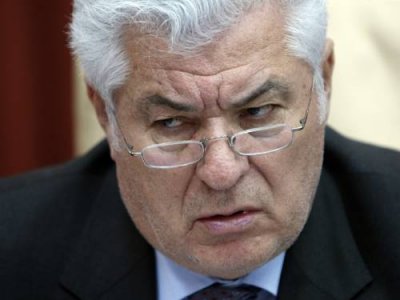 Efforts by Moldova's Communist Party to keep its leader, Vladimir Voronin, in a position of power suffered a setback on Wednesday when his protegee was rejected as presidential candidate in a parliamentary vote.
Voronin, president since 2001, cannot seek a third term in office; but he has secured the position of parliamentary speaker, a job he hopes will enable him to maintain control of Europe's poorest country.
A second round of voting was immediately scheduled for next week. Failure then to elect a president would result in the chamber being dissolved and a new parliamentary election.
The outcome of the vote had been all but clear after three opposition parties said they would boycott the contest.
Valeriu Sava, head of parliament's election commission, said Prime Minister Zinaida Greceanii won 60 votes — one less than the 61 needed to win in the former Soviet republic's 101-seat chamber.
Greceanii is seen as a loyalist easily controlled by Voronin. A second communist candidate, entered to make the contest look more competitive, won no votes.
"It is necessary to organise a second round of voting," Voronin told the session convened in a large meeting hall. Within minutes, he told deputies a second round of voting would take place on May 28.
A parliamentary election that sparked riots last month left the Communists with 60 seats and the opposition parties with a combined total of 41.
Igor Botan, head of the Adept think tank, said before the vote that the communists had a better chance in a second round.
"In the second round, the stakes will be raised," he said. "But I still think the chances of an early parliamentary election are about 50-50."
SOLVING THE SEPARATIST PROBLEM
In her address to deputies, Greceanii vowed to uphold the sovereignty and neutral status of the former Soviet republic. She also pledged to promote Moldova's integration with Europe and intensify efforts to solve an 18-year old "frozen conflict" with separatists in the Russian-speaking Transdniestria region.
"I will direct all my strength to enhancing Moldova's statehood," she told the session.
"A solution to Transdniestria is absolutely necessary for the existence of our state. We need to resume negotiations on Transdniestria in an internationally recognised format."
Plunging Moldova into a new parliamentary election could produce new turmoil in the country wedged between Ukraine and EU-member Romania, with which is shares historical and linguistic ties.
After the April elections, students disheartened by an economic crisis and the prospect of further communist rule ransacked the presidential and parliamentary buildings. The opposition said the election was rigged and accused the police of brutality against protestors.
Leaders of opposition parties, broadly pro-Romanian and favouring closer links to the European Union, walked out of the session before voting started. They demand a new poll.
Voronin said the violent protests in April amounted to an attempted coup fuelled by Romanian support.
Voronin has overseen stability and economic growth but has been unable to solve the rebellion in Transdniestria, a sliver of land populated by Russian speakers that broke away in 1990 because of fears Moldova might one day unite with Romania.
Voronin was at first close to Russia, then fell out with Moscow over its peacekeeping troops based in Transdniestria which he said blocked any resolution to the conflict. He has in the past year restored closer ties with Russia.