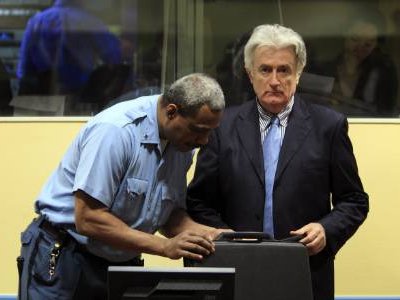 Former Bosnian Serb leader Radovan Karadzic filed a 140-page motion on Monday arguing charges against him tied to the 1992-1995 Bosnia war should be dropped because he was promised immunity by a top U.S. official.
Karadzic, arrested and brought to the tribunal for former Yugoslavia last year after 11 years on the run, has said since his arrival that former U.S. peace mediator Richard Holbrooke offered him immunity in 1996 if he disappeared from public life.
"If the Trial Chamber finds that the Holbrooke agreement is binding on the Tribunal, it should order that the indictment be dismissed," Karadzic and his lawyer said in the motion.
Karadzic, leader of the Bosnian Serbs during the war, faces two charges of genocide over the 43-month siege of Sarajevo and the 1995 massacre of 8,000 Muslims at Srebrenica.
Holbrooke has repeatedly denied the existence of a deal, describing Karadzic's claim as "no more than another lie from the most evil man in Europe".
The International Criminal Tribunal for the former Yugoslavia has said that even if one exists, it would not give Karadzic immunity from prosecution.
Peter Robinson, Karadzic's legal adviser, said he was confident the tribunal would hold an evidentiary hearing and that it would reconsider grounds for a trial.
"We're hoping that when it has all the facts before them… that they will see things differently," Robinson told reporters.
SUPPORTING DOCUMENTS
Among the supporting documents in the motion is a copy of a an agreement in English, which appears to have been faxed and photocopied several times but still legible, describing Karadzic's terms of withdrawal from public office.
It was signed by Karadzic as well as former Serbian President Slobodan Milosevic and other politicians at the time.
Karadzic says he agreed to end his political career and withdraw from public life in exchange for immunity from prosecution. But Holbrooke's signature is not on the document, and Karadzic's lawyer admitted that it would be unlikely that any document would be found with Holbrooke's signature.
"We don't expect ever to find any written agreement signed by Holbrooke," Robinson said, adding that thus far, the U.S. State Department has not been able to produce any records of the meeting. "We do expect to find some records of what was said at the meeting."
Also among the supporting documents in the motion is a cable from John Menzies, U.S. Ambassador to Bosnia at the time, to the State Department referring to an agreement for Karadzic to leave public office and Bosnian Serb officials saying that Holbrooke had promised in exchange that The Hague would "disappear".
Richard Goldstone, the tribunal's former prosecutor who filed charges against Karadzic in 1995, said that the tribunal would probably still go ahead with a trial, possibly later this year, even if definitive evidence of a deal was found.
"Assuming that there was such an agreement, why would it be relevant?" said Goldstone, who was also in The Hague on Monday to receive an international justice award.
Karadzic would face life in prison if convicted of the 11 charges against him, which include genocide, war crimes and crimes against humanity.
The tribunal entered not guilty pleas on Karadzic's behalf in March, after an amended indictment was filed against him.