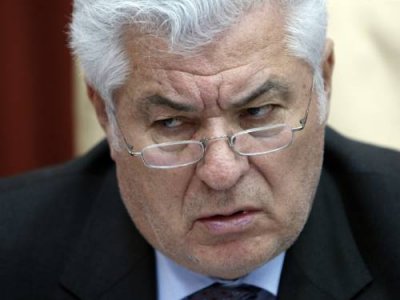 Moldova's parliament postponed from Thursday a final ballot to elect a president, a vote outgoing Communist President Vladimir Voronin hopes will enable him to hold on to the reins of power.
Voronin, who intends to wield authority in his new job as speaker of parliament, proposed the postponement to June 3 and deputies approved it. Within 10 minutes, the session was adjourned.
The assembly in the ex-Soviet republic wedged between Ukraine and European Union member Romania had been due to vote on a loyal protegee, Communist Prime Minister Zinaida Greceanii, who fell one vote short in the first ballot last week. A total of 61 members must endorse the nominee in the 101-seat assembly.
A second failure by Greceanii to win the presidency would trigger another parliamentary election a month after a Communist victory in the last contest triggered violent protests and opposition accusations of vote-rigging.
The postponement indicated the Communists, in power since 2001, had failed to secure the necessary additional vote. Three opposition parties boycotted the ballot.
"We took a break in order to have another chance for consultations with the opposition and to try to elect a president," Voronin, who also remains acting president, told journalists after the session. He said Greceanii would remain the communists' presidential candidate.
"We do not want a (parliamentary) election. Nobody wants it apart from a narrow group of people," he said.
The opposition says the April election was rigged and has long called for a new contest or for Voronin to step down.
"We are ready for negotiations but one of the conditions is that Voronin quit all his posts," said Serafim Urechean, head of the Our Moldova party. "The communists have turned everything in the country and in parliament itself into a farce."
SCRAMBLE FOR A VOTE
Voronin, who presides over a farm-dominated economy in Europe's poorest country, cannot stand for a third straight term.
Some have suggested he may play a role like that of Russia's former president Vladimir Putin who, as prime minister, exerts influence alongside his chosen successor Dmitry Medvedev.
Analysts said the Communists would desperately try to find a way to persuade a single opposition deputy to back Greceanii.
"In the next week they will either try to bribe one of the deputies from the opposition or to reach a broader political agreement with the opposition," said Vitalii Andrievschi of the ava.md analytical Internet service said.
The economy has suffered from the economic downturn as remittances from Moldovans working abroad have tumbled. The country also faces an intractable conflict in Transdniestria, a strip of land bordering Ukraine whose Russian-speakers seceded in Soviet times.
The three opposition parties are liberal and pro-European in outlook and also favour closer ties with Romania. Voronin has seesawed back to better links to Russia.
Young protesters sacked the presidential and parliamentary buildings after the April election. They see few prospects if Voronin and his Communists, in power since 2001, stay in office. Moldova shares a linguistic and historical legacy with Romania but also has long-standing ties with Russia. Voronin made a career in the Moscow-based Soviet Communist Party apparatus before the disintegration of the Soviet Union in 1991.